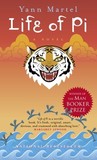 Life of Pi
by
Yann Martel
My rating:
5 of 5 stars
Sometimes I am slow to take on books that served as source material for movies I like because I think I will be too familiar with the story to appreciate the material. Yann Martel's novel is yet another piece of evidence that proves that line of thinking is wrong. The movie encapsulates just a shred of Pi's seafaring journey, leaving out the tons of context that's necessary to squeeze a story within the time constraints of a film.
Martel's book is a haunting meditation on the search for God and the way humans fit into the animal world, as well as the way they project humanlike qualities onto animals they hunt, care for and capture. Martel's material is infinitely deep and dense, while also thoroughly accessible. His shift among voices is effortless, and always conversational to the point of stream of consciousness melded with journal entries.
Martel captures the listless horror of being stranded at sea, both literally and figuratively, and confronting both external and internal fears and yearnings. This is a beautiful and incomparable book.
Sanjeev Bhaskar's narrative performance in the Audible version is as resplendent as the writing itself, shifting between the thicker accent of an Indian immigrant when speaking as Pi, and the low-key, Indian-influenced patter of the studied academic voice relaying the tale in the narrative device. His voice conjures the magic that the writing calls out for.
View all my reviews