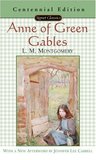 Anne of Green Gables
by
L.M. Montgomery
My rating:
5 of 5 stars
L.M. Montgomery overcame considerable institutional prejudice to craft this delightful, entrancing coming-of-age novel, about a mischievous, hyperimaginative girl who overthinks her way through adolescence.
A female and Canadian answer to Mark Twain's Tom Sawyer and Huck Finn, "Anne of Green Gables" launched a sizable entertainment empire of its own that continues to thrive in various media today. None of the TV shows or movies can match the effervescent panache of Montgomery's writing.
Likely drawing upon her own upbringing as a brainy and rambunctious young mind scuttled by prim, proper society, Montgomery sets the stage for relatable and awkward misadventures. She talks her way in and out of trouble, forges rivalries and frenemyships and bristles against the constraints of social expectations heaped upon females.
In the
Audible version
, Rachel McAdams' narration perfectly synthesizes the brainy energy of a young, too-smart-for-her-own-good mind bubbling with iconoclastic ambition.
Astoundingly fun while also appreciably deep and philosophically challenging, "Anne of Green Gables" is a fun and fascinating story that's a treat from end to end.
Publisher provided review copy.
View all my reviews